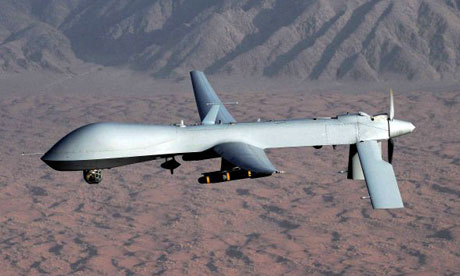 A Predator drone spyplane-bomber. A computer virus has infected computers used by pilots who fly US drones remotely from Creech air force base in Nevada. Illustration: Rex Features
A computer virus that captures the strokes on a keyboard has infected networks used by pilots who control US air force drones flown on the front line, according to a report.
Wired magazine reported that the spyware has resisted efforts to remove it from computers in the cockpits at Creech air force base in Nevada, where pilots remotely fly Predator and Reaper drones in places such as Iraq and Afghanistan.
The story said there were no confirmed reports that classified data had been stolen and that the virus did not stop pilots from flying missions. Network security specialists were uncertain whether the virus was part of a directed attack or accidentally infected the networks, the story said.
The air force said in a statement that it did not discuss threats to its computer networks because it could help hackers refine their tactics.
"We keep wiping it off, and it keeps coming back," Wired quoted a source as saying. "We think it's benign. But we just don't know."
Read more here:
http://www.guardian.co.uk/technology/2011/oct/09/virus-infects-drone-plane-command
For our latest
anti-spyware and anti-virus software tips for PCs, please visit zroundtable.com
.